The Ferrin – Chapter 9 – Page 4
Hey guys here is the next page!
And more comics 😀 !!
Demon Archives by Dan Sharp
As Captain of the Keleres, Tenzin Dorje led his team to defend the people of Minerva from raiders and rival factions. But when a new enemy destroys the Keleres and seriously wounds Tenzin, he'll have to face his personal demons to restore peace to the region.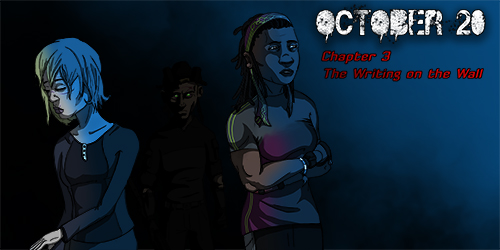 October 20 by Marius Hjelseth
For 12 years, Catherine has suffered agony, isolation, loss and betrayal. Now, she faces her most formidable monster. Her own guilt. Get ready for the final chapter of October 20, as Catherine returns to where all her grief began. Along for the ride are a few surprise allies. And enemies.

Arbalest by L. Potyondy-Edens –
A reluctant monster with six months to live learns to transcend her role in an isolated, fearful village.

Michael by D. Randall
What would it be like to be a gemue in an all human high school? Michael is about to find out as his sharkmue genetics begin to show. Some want to put him on a pedestal, while others want to run him out of school – Michael just wants to survive the ninth grade.

Realm of Owls by Gheralf and Vayandil
Please, have a seat. Wait! Stand up first. Now, sit down. Stand up again. Why are you standing? Sit down. Now, let us tell you of a city run by owls…

The Cyantian Chronicles by Tiffany Ross
The Cyantian Chronicles is a collection of ongoing comics centered around anthropomorphic creatures from another world and their adventures in finding out who they really are, other than a genetically engineered slave race whose roots lie on the planet Earth.